Here Global users can buy Chinese products with ease from 1688,Taobao,Tmall.
Paste the product link (URL) below, one product URL at a time
How to translate the Chinese webpage into English
(To help you out sourcing easily from 1688, taobao or other Chinese hot online shopping platforms, we are going to show you the ways to make it)
1. First, you may need to translate the Chinese into English for the webpage, then you need a Google Chrome browser Extension, here is the video being helpful of you to know on how to work in souring on 1688, taobao…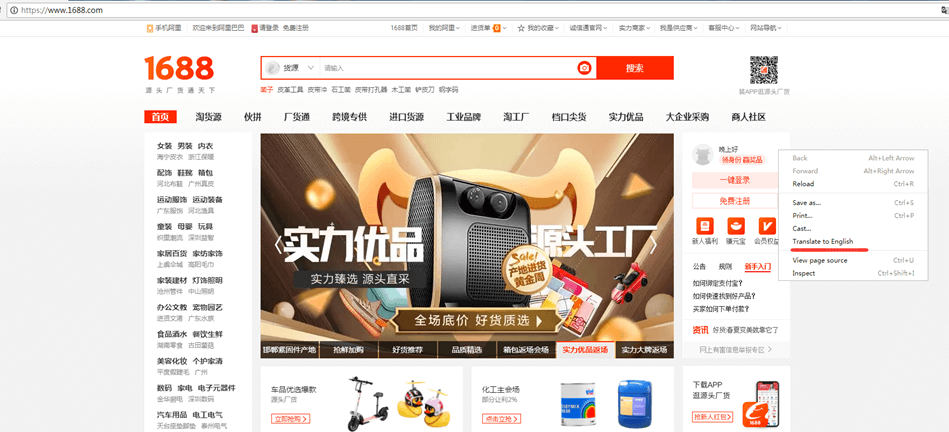 2. You have to keep in mind that Chinese Character keywords should be used in Taobao or 1688's search. English keywords will only bring much fewer results. Well, we know you may not be able to type Chinese, so you can use Google translator to make it work with product keywords input to translate into Chinese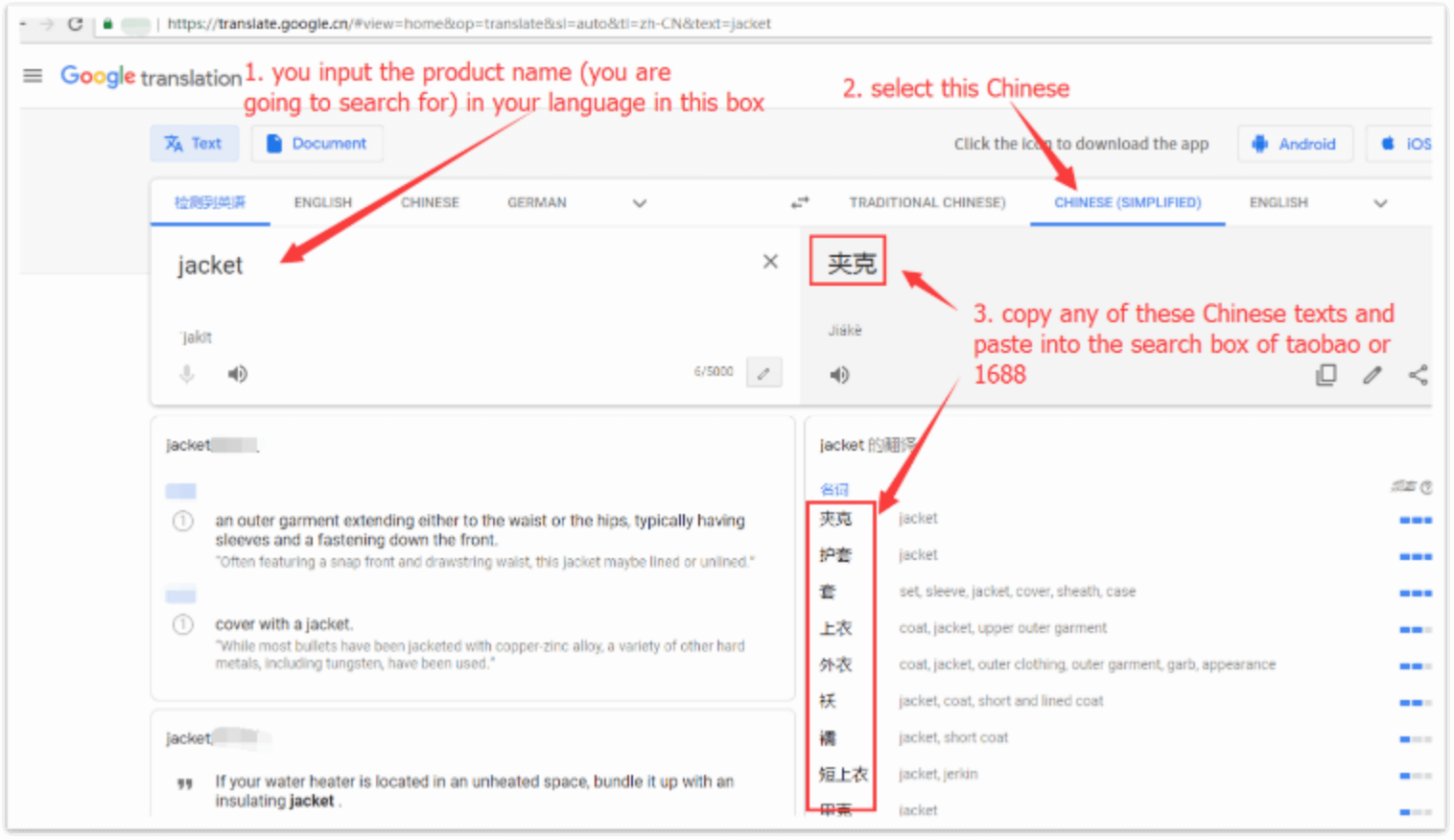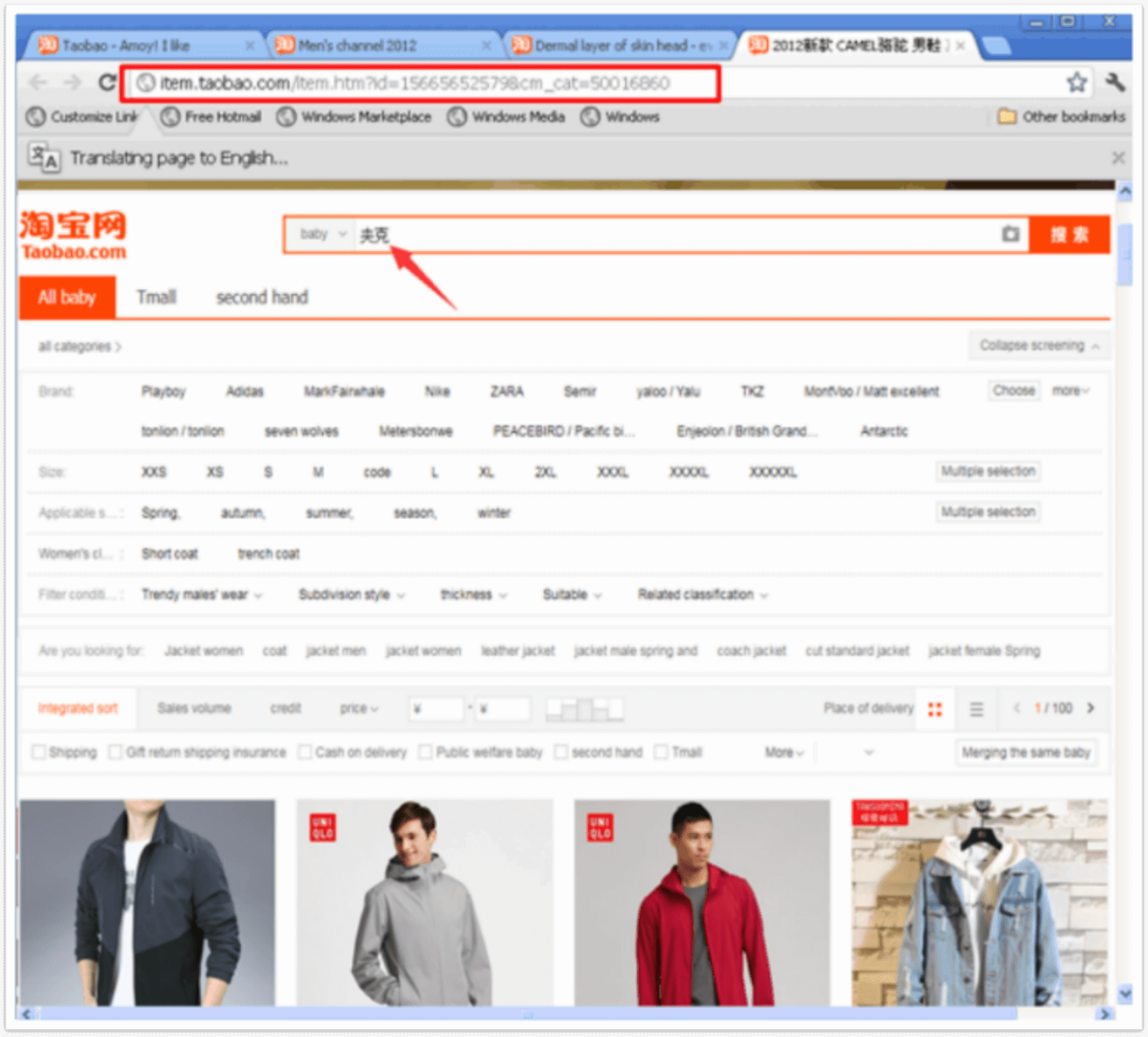 The English and Chinese Reference of Merchandise Name in Shopping Platforms
We collected a few popular Chinese keywords to help you easily find your favorite items on Taobao, Tmall, or other Chinese shopping sites. Just simply paste the Chinese keywords to the search bar, then you can find the exact item.
1、女士(Women)
衣服(Clothing)
连衣裙(Dress)、雪纺裙(Chiffon Skirt)、迷你裙(Mini-Skirt)、短裙(Skirts)、百褶裙(Pleated Skirt)、牛仔裙(Jeans Skirt)、背带裙(Suspenders Skirt )、A字裙(A-Line Skirt)、T恤(T-Shirt)、长袖T恤(Long Sleeve T-Shirt)、短袖T恤(Tees)、短外套(Short Coat)、衬衫(Shirt)、大衣(Coat)、羽绒服(Down Coat / Jacket)、毛衣( Sweater)、针织衫(Knitwear)、卫衣(Hoody)、套装(Suit)、皮衣(Leather Coat)、背心(Vests)、夹克(Jacket)、风衣(Dust / Wind Coat)、雪纺衫(Chiffon Shirt)、休闲套(Leisure Suit)、马甲(Weskit)、西装(Suit)、礼服(Formal Dress)、婚纱(Wedding Dress)、旗袍(Cheongsam)、唐装(Tang Suit)、孕妇装(Maternity Dress)、妈妈装(Maternity Dress)、防辐射装(Anti-Radiation Outfit)、内衣裤(Underwear)、乳罩 / 胸罩(Bra)、塑身内衣(Shape-Wear Lingerie)、睡衣(Pyjamas)、泳衣(Swimsuit)、比基尼(Bikini)、制服(Uniform)、和服(Kimono)、打底裤(Leggings)、运动服 (Sport Clothes)、休闲裤(Leisure Pants)、短裤(Shorts)、牛仔裤(Jeans)、连衣裤(Jump Suit)、情侣装(His-And-Hers Clothing)、雨衣(Rain Coat)、毛呢外套(Wool Coat)、 皮草(Fur Coat)、 棉衣/棉服(Cotton)、 情趣内衣(Sexy Lingerie)、 打底裤(Legging)、 哺乳文胸(Nursing Bra)
鞋子(Shoes)
运动鞋(Sport Shoes)、单鞋(Pump Shoes)、罗马鞋(Roman Shoes)、超高跟的(Super High Heeled Shoes)、高跟鞋(High Heeled Shoes)、中跟鞋(Middle-High Heeled Shoes)、 平底鞋(Flats )、帆布鞋(Canvas Shoes)、雨鞋(Rain Shoes)、凉鞋(Sandal)、短靴(Ankle Boots)、高筒靴(High Boots)、中筒靴(Middle Boots)、雪地靴(Snow Boots)、马丁靴(DR. Martin)、拖鞋(Slippers)、鞋带(Lace)、女士袜子(Women's Socks)
女式包(Women's Bag)
手提包(Handbag)、背包(Backpack)、钱包(Wallets)、小包(Packet)、手拿包(Clutch Bags)、旅行包(Travel Bags)、户外运动包(Sports & Outdoors)、流苏包(Fringed Bag)、热卖包(Hot-Sale Bag)、通勤包 (Office Bag)、真皮包(Leather Bag)、 帆布包 (Canvas Bag)、单肩包(Shoulder Bag)、 斜挎包 (Shoulder Bag)、 零钱包 (Coin Purse) 、腰包(Pocket)
珠宝(Jewelry)
钻 石(Diamond)、翡翠(Emerald)、黄金(Gold)、铂金(Platinum)、 琥珀(Amber)、天然珍珠( Natural Pearl)、水晶(Crystal)、戒指(Rings)、项链(Necklace)、手链(Chains)、耳坠(Earring)、K金首饰 (Karat Gold Jewelry)、 情侣对戒(Coupon Rings)
女性配饰(Women's Accessories)
女士腰带(Women's Belt)、女士领带(Women's Tie)、女士帽子(Women's Hat)、遮阳帽(Sun Hat)、棒球帽(Baseball Hat)、草帽(Straw Hat)、鸭舌帽(Peak Cap)、围巾(Scarves)、手帕(Handkerchief)、手套(Gloves)、围裙(Apron)、头饰(Headwear)、耳饰 (Earring)、女士眼镜(Women's Glasses)、女士太阳镜(Women's Sunglasses)、女士手表(Women's Watch)、针织帽(Knitted Hat)、 贝雷帽(Berret Hat)、 渔夫帽 (Bucket Hat)、礼帽(Hat)、 毛线帽 (Woollen Hat)、爵士帽(Jazz Hat) 、盆帽(Bucket Hat) 、八角帽 (Octagonal Cap)、羊绒围巾(Cashmere Scarf) 、披肩(Scarf)、 羊毛围巾(Wool Scarf)、 真丝围巾 (Silk Scarf)、棉麻围巾(Cotton Scarf) 、方巾(Square Scarf)、 皮草围巾(Fur Scarf)、 羊绒羊毛混纺围巾 (Cashmere And Wool Scarf)、羊毛棉混纺围巾(Wool And Cotton Scarf) 、真皮手套(Leather Gloves)、 触屏手套(Smart Phone Gloves) 、半指手套 (Half Gloves)、全指手套 (Gloves)、毛线手套 (Knitted Gloves)、真皮腰带(Leather Belt)
2、男士(Men)
衣服(Clothing)
夹 克(Jacket)、毛衣(Sweater )、衬衫(Shirt)、T恤(T-Shirt)、Polo衬衫(Polo Shirt)、卫衣(Hoody)、风衣(Trench/Wind Coat/Windbreaker)、皮衣(Leather Jacket)、西服(Suit)、背心(Vest)、牛仔(Jeans)、大衣(Coat)、羽绒服(Down Coat)、裤子(Pants)、休闲裤(Leisure Trousers)、睡衣(Pyjamas)、内衣裤(Under Wear)、球衣(Polo Shirt)、情侣装(Couple Outfits)、毛衣(Sweater) 、棒球服(Baseball Coat) 、运动外套(Sport Coat)、 呢大衣(Wool Coat) 、开衫(Cardigan) 、棉衣 (Cotton Clothes)、马甲 (Vest)、大码(Large Size)、 休闲裤 (Leisure Trousers)、牛仔裤(Jeans)、 运动裤(Sport Trousers)、 阔腿裤 (Loose Trousers)、哈伦裤 (Harem Trousers)、皮裤(Leather Trousers) 、九分裤(Cropped Trousers)
鞋子(Shoes)
运 动鞋(Sport Shoes)、男士皮鞋(Men's Leather Shoes)、男士休闲鞋(Men's Leisure Shoes)、男士帆布鞋(Men's Canvas Shoes)、男士凉鞋(Men's Sandal)、男士拖鞋(Men's Slippers)、男士靴子(Men's Boots)、男士增高鞋(Men's Heighten Shoes)、男士袜子(Men's Socks)
男士包(Men's Bag)
牛皮包(Leather Bag)、背包(Backpack)、旅行包(Travel Bags)、户外运动包(Sports & Outdoors)、钱包(Wallets)
男性配饰(Men's Accessories)
男士腰带(Men's Belt)、男士领带(Men's Tie)、男士帽子(Men's Hat)、棒球帽(Baseball Hat)、草帽(Straw Hat)、鸭舌帽(Peak Cap)、男士眼镜(Men's Glasses)、男士太阳镜(Men's Sunglasses)、男士手表(Men's Watch)、男士戒指(Men's Rings)、男士项链(Men's Necklace)
3、儿童用品(For children's products )
婴儿(Baby)
婴儿衣服(Baby Clothing)、婴儿奶粉(Baby Milk Powder)、婴儿玩具(Baby Toys)、婴儿鞋(Baby Shoes)、婴儿纸尿裤(Baby Diaper)
儿童(Children)
儿童衣服(Children's Clothing)、儿童玩具(Children's Toys)、童鞋(Children Shoes)、儿童学习用品(Children's School Supplies)、亲子装(Family Suit)
4、其他(Others)
建材(Construction Materials)
开关(Switch)、卫浴(Bathroom)、灯饰(Decorative Lighting)、五金工具(Hardware Tool)、台灯 LED(Table LED Lamp)、花洒(Shower Head)、 水龙头 (Tap)、墙纸(Wall Paper)、 壁纸(Wall Sticker)、 墙布(Wall Paper) 、背景墙 (Background Wall Paper)、指纹锁(Fingerprint Lock)、 防盗锁(Anti-Theft Lock) 、监控摄像头 (Surveillance Camera/CCTV)、插座(Socket)、 无线摄像头(Wireless Camera)
家纺(Home Textiles)
被子(Quilt / Duvet )、枕头(Pillow)、沙发垫(Sofa Cushion)、床上用品(bedding article)
家饰(Decoration)
十字绣(Cross Stitch)、地毯(Carpet)、窗帘(Curtain)、照片墙(Photo Wall)
居家用品(Living Goods)
婚庆用品(Wedding Supplies)、雨伞(Umbrella)、礼品(Gift)、拖把(Mop)、衣架(Hanger)、收纳(Storage)、厨房用具 (Kitchenware)、卫浴用品(Bathroom Supplies)、个人洗浴用品(Personal Toiletries)
食物(Foods)
零食(Snacks)、茶叶(Tea)、保健品(Health Care Products)、维生素(Vitamin)
宠物(Pets)
衣服(Clothes)、帽子(Hats)、食物(Foods)、宠物用品(Pets Supplies)
数码电子(Digital & Electrical)
MP4 、 MP3、PSP、Ipod照相机和摄像机( Camera & DV)、U盘(Memory Stick)、办公设备(Office Facilities)、办公用品(Office Supplies)、数码配件(Digital Accessories)、IPAD、 IPAD Air2 、平板电脑 (Tablet)、电玩动漫 (Video Game, Cartoon)、单反相机(Digital Single Lens Reflex)、 鼠标键盘(Mouse And Keyboard)、 无人机(Drone)
笔记本和平板电脑(Notebook & Tablet PC)
IBM、ACER、 HP、 平板电脑(Tablet PC) 、ASUS、电脑配件(Computer Accessories)
手机(Cell Phone)
Iphone | Motorola | Nokia | HTC | Samsung | Sharp |小米 (Xiaomi)|1加(One Plus)
美容和运动(Beauty & Sports)
洁面乳(Facial Wash/Cleanser)、面霜(Cream)、化妆水(Toner)、面膜(Mask)、防晒(Sun Care)、眼部精华素(Eye Serum)、眼霜(Eye Cream)、润唇膏(Lip Moisturizer)、身体去角质(Body Exfoliations)、身体乳(Body Moisturizer)、脱毛膏(Depilatories)、沐浴露(Body Wash)、护手霜(Hand Cream)、睫毛膏(Mascara)、粉底霜(Foundation)、画笔和化妆包(Brushes & Bags)、香水(Fragrances )、SPA、洗发水(Shampoo)、假发(Wig)、发膜(Hair Mask)、染发剂(Hair Dyes)、护发素(Hair Conditioner)、发蜡(Hair Vaseline)、弹力素(Elastin)、保健品(Healthcare)
个人生活护理(Personal Life Care)
剃须刀(Shaver)、电吹风(Hair Drier)、指甲剪(Nail Scissors)、电动美容仪(Electric Hairdressing Apparatus)、体重秤(Weighing Scale)、 丰胸器(Breast Enhancement Device)
运动装备(Sports Equipment)
游泳(Swimming)、跳舞(Dancing)、瑜伽(Yoga)、球类(Ball)、钓鱼(Fishing) 、冲浪(Surfing), 其他户外运动装备(Other Outdoor Sports Equipment)
汽车配件(Car Accessories)
汽车内饰(Automotive Trim)、坐垫(Cushion)、GPS、汽车配件(Car Accessories)、摩托配件(Motor Accessories)
书籍(Books)
考试书籍(Examination Books)、杂志(Magazine)、养生书籍(Health Books)、童话(Fairy-Tale)、小说(Novel),文化用品(Stationery Commodity)
收藏(Collections)
和田玉(Nephrite)、邮品(Postage Stamp)、钱币(Coin)
小电器 (Small Appliances)
生活电器(Home Appliances)、 厨房电器(Kitchen Appliances) 、美容仪(Beauty Machine)、 空气净化器(Air Purifier)、 扫地机器人(Sweep Robot)、 吸尘器 (Vacuum Cleaner)、取暖器 (Heater)、烤箱(Oven)、 豆浆机(Soya Drink Maker) 、榨汁料理(Soup Maker) 、电饭煲(Rice Cooker) 、吹风机(Hair Drier)、 剃须刀(Shaver)、 卷发器(Hair Divider)、 蓝牙耳机(Bluetooth Earphone)、 电暖桌(Electric Warming Table)、 蓝牙音箱 (Bluetooth Speaker)、电热毯 (Electric Blanket)、加湿器 (Humidifier) 、暖风机(Heater)